Since 1983, Welburn Management has focused on its customers and delivering outstanding levels of quality service at all of their McDonald's restaurants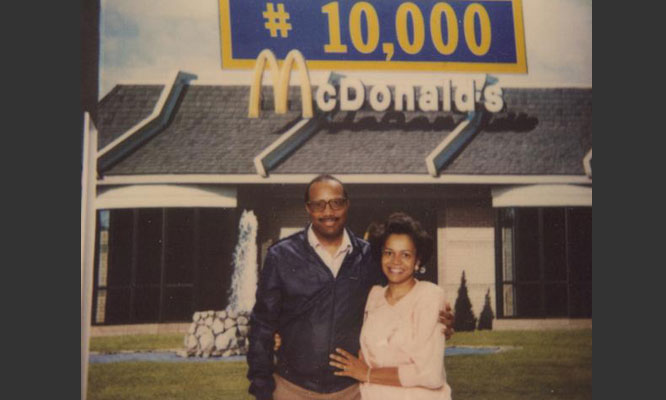 This is some text about this photo
This is some text about this photo
Craig and Diane traveled to Dale City Virginia to witness the grand opening of the 10,000 Mcdonalds. Who would have ever thought that 13 years later they would purchase this restaurant?
Getting Started with McDonald's
Craig and Diane Welburn after careers at New Jersey Bell Telephone company and special education respectively, wanted to pursue their own business. They wanted to control their own destiny and sought after the best business model they could. The McDonald's company, founded by Ray Croc in 1955, fit all of their wishes. It was the number one restaurant in the world. After Craig's acceptance in McDonald's registered applicant program, the Welburn's proceed to work hard to save for their ownership goal. After four years of frugality and hard work their dream came true.
Welburn Management started when founders, Craig and Diane Welburn, decided to control their own destiny and started looking for the best business model they could find.
Growing the Business
Welburn Management began May 23rd 1983 when Craig and Diane Welburn took the challenge and opened their first McDonalds at 2nd and Lehigh in Philadelphia, Pa. Little did they know that that venture would far exceed its projections. During their tenure in the Philadelphia area they amassed eight restaurants in Philadelphia, New Jersey and Delaware. The success of their business lead to the purchase of twenty five restaurants in Maryland, Washington and the Northern Virginia area in 2001.
Family Owned and Family Run
Welburn Management now encompasses a company that includes 29 family restaurants. Four of their children are now owner operators. Each person in their family performs a critical function to the success of the business. The Welburn's currently employee over 1500 employees. They are instrumental in developing a business team that is focused on its customers and delivering outstanding levels of quality service and cleanliness in all of its restaurants.